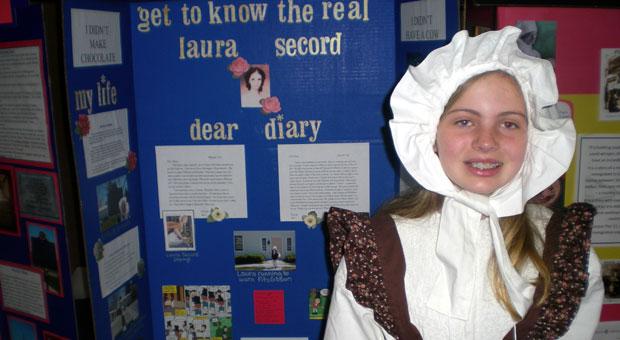 2012
Ally
I didn't have a cow and I didn't make chocolates. Get to know the real Laura Secord.
Ally represented Kingston at the Ontario Provincial Fair in Toronto, June 7 and 8, 2012 and presented her project to many special guests including the Lieutenant-Governor of Ontario, the Honourable David C. Onley. 
 
This project follows Laura Secord on a journey through her life. The project contains pages from her diary, and shows pictures from her original homestead and burial ground. Most importantly it shows how this heroine saved Canadian lives.
What impact did Laura Secord have on Canadian history?
Laura learned of a planned attack by the Americans and walked 32 km to the area controlled by the British and their leader, Lieutenant James FitzGibbon, to warn them of the attack. Because of Laura's warning the British and their Mohawk allies were able to repel the Americans at the Battle of Beaver Dams.
Why should Canadians today care about Laura Secord?
The story of Laura Secord shows that women as well as men played an important role in Canadian history. Canada was being invaded by the Americans and Laura's warning made sure they didn't succeed. The victory at Beaver Dams was very important for the British and Canadians. It helped make sure that Canada became Canada instead of another American state.