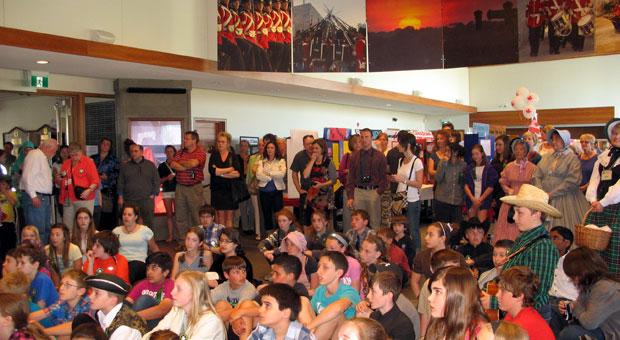 Our Heritage – Our Future 
Students and Volunteers...Get Involved!
Thank you for your interest in the Kingston Regional Fair!
Our fair is the oldest fair in Ontario and one of over 100 fairs in Canada, with thousands of students participating in various aspects of the program.
Participation in the Heritage Fair is an enjoyable way for students to explore an aspect of history of which they, otherwise, may not have the chance to learn. Researching and presenting a project not only enhances knowledge of history on a personal, local and national level, but helps students develop skills in many areas of the curriculum.
We actively seek volunteers to assist with this wonderful yearly event.  Volunteer opportunities include: adjudication - judging projects on fair day (yes, we need YOU!!), planning and logistics, programming, fundraising, and public relations.
In addition to volunteer opportunities, the public is invited to attend the Heritage Fair and view the projects in person during the afternoon SHOWCASE.  Come and support our incredible Kingston youth!  (Please see the current Heritage Fair web page for information on dates, times, and location.) 
We look forward to your involvement in promoting Canada's history, and to the excitement and enthusiasm that students bring to our fair every year.
To volunteer, or for more information, please contact us at info@krhf.ca
Information on Projects and Registration